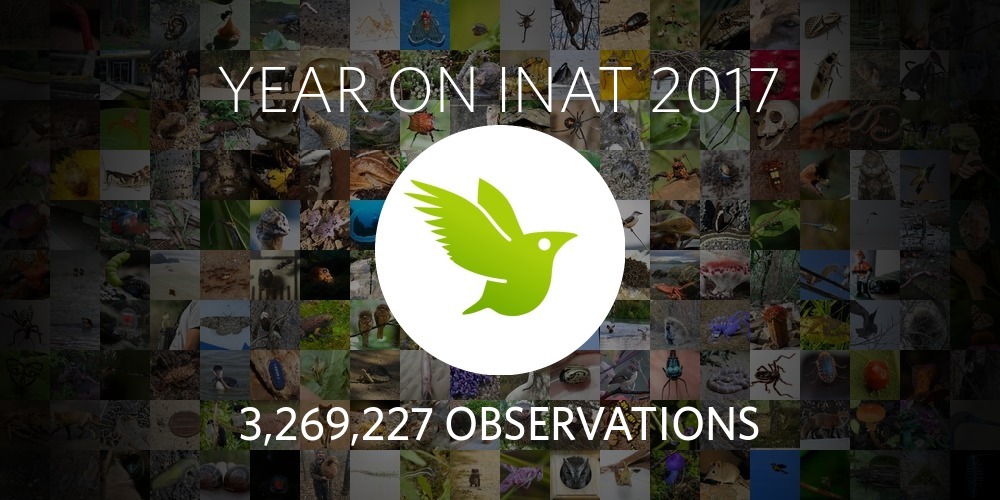 We like stats, and we like you, so we made this year-in-review page for you to consider (and share!):
https://www.inaturalist.org/stats/2017
What's that, you want to see your own stats? We've got you covered:
https://www.inaturalist.org/stats/2017/you
Most of it is self-explanatory, but there are some tricky bits:
We're mostly just showing counts of verifiable observations. That means even though we're showing some "casual" observations in the pie chart at the top, the number in the middle is for your verifiable observations.

"Species" means "leaf taxa." If you have one observation of Genus Hyla and another of the species Vulpes vulpes we count that as two "species." If you have one of Genus Vulpes and another of the species Vulpes vulpes, we count that as one "species."

"Most Comments and Faves" are sorted by faves, then comments. Observations with lots of comments tend to be interesting, but observations with lots of faves tend to be pretty. We're suckers for pretty.

The map is interactive! Zoom around and you can watch the animation on a local scale. You can also click the date to pause and use the arrow keys to move forward and backward in time.

The "sunburst" is also interactive! This diagram will probably be a bit mystifying for some folks, but mousing over things will explain what the arcs represent, and you can click on them to view just that taxon. For touch users, tapping will have to suffice.
We may add a few more charts if we're not too busy celebrating the new year (or surviving our holiday colds). Hope you're all having a splendid holiday season, and, as always, many thanks for all you've done to make iNat what it is today! Here's to another great year.
Posted by

kueda
, December 27, 2017 22:42