Yesterday morning @colleenm and I ended up being the only two participants in the first ever Port Aransas Nature Preserve Bioblitz! While initially a little disappointed that no one else showed up, we decided to have fun seeing what we could find out on the trails and boardwalk to the Salt Island observation tower. We ended up having an amazing morning. Too bad no one else got to enjoy it with us!
In addition to being important habitat for many species of birds and other animals, the Port Aransas Nature Preserve at Charlie's Pasture can offer magical wildlife viewing experiences. The birds aren't tame, but to a certain extent they are used to people on the trails. And even in the wide open spaces out there, some of the large birds don't mind flying right over your head. We had this experience with a female Magnificent Frigatebird, American White Pelicans, and a pair of White-tailed Hawks: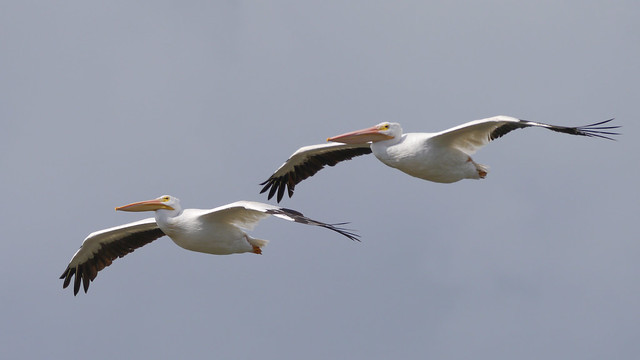 The hawks were an adult and a juvenile, and I was only able to photograph the juvenile which has a dark plumage with small light bib, very different from the adult:
The wading birds and shorebirds will also sometimes let you get quite close, and there's no better way to try and learn the difference between the tiny sandpipers than when you have two similar species just a few feet away from you. This Least Sandpiper and Western Sandpiper offered us these close views:
The number of shorebirds and wading birds out on the mud flats was high yesterday, and we saw several dense mixed feeding flocks like this one that included Black-necked Stilts, Snowy Egrets, Greater and Lesser Yellowlegs, Willets, and a few Little Blue Herons:
We often saw tight flocks of fast-flying shorebirds in the distance, flying low over the flats. Once one of these flocks flew straight towards us and split up to just miss us as we stood on the boardwalk. I finally got a photo of one flock that was sharp enough to identify the birds as Wilson's Phalaropes:
We had just started to examine a large flock of sandpipers that had let is get pretty close, when they all flushed. We looked around and saw that a Peregrine Falcon was diving at them! We saw the falcon make a couple quick maneuvers without catching anything. I got this shot of it as it circled around before deciding to move on:
The biggest surprise of the morning was when we ran into longtime birder Wade Strickland who pointed out a Greater Flamingo northwest of Salt Island out on the mud flats. We couldn't believe it! It turned out this was the bird that escaped from from a zoo in Kansas back in 2005. (It's identified by a band with number 492 on its left leg.) It has been spotted on the Texas coast several times, and for the past few years has been seen with another flamingo from the Yucatan Peninsula. We only saw the one flamingo yesterday, but we hope its companion is nearby.
The flamingo eventually took flight and landed somewhere south of the Birding Center. While in the air it flushed up a flock of Roseate Spoonbills, which are commonly mistaken for flamingos, and I got a few photos of these two pink birds together flight.
Here's our complete eBird checklist.
Here are a few more photos on Flickr.
Attached our my iNaturalist observations. And here are Colleen's.
Posted by

mikaelb
, September 25, 2016 20:16