I got to drive out to Alpine for SnakeDays this year. Arrived in Marathon late Thursday night, August 1, and stayed with my friends James Evans and Marci Roberts. James and I cruised the road together Friday night and Saturday night and found eight species of snakes.
About halfway down the Black Gap road (FM 2627) on Friday night, we pulled over for a rattlesnake on the road and ended up staring at the sky for about half an hour. These was no moon, and the Milky Way was spectacular!
I was glad to have the time with James, "The Photographer West of the Pecos." How many other photographers travel with a battery-powered softbox light?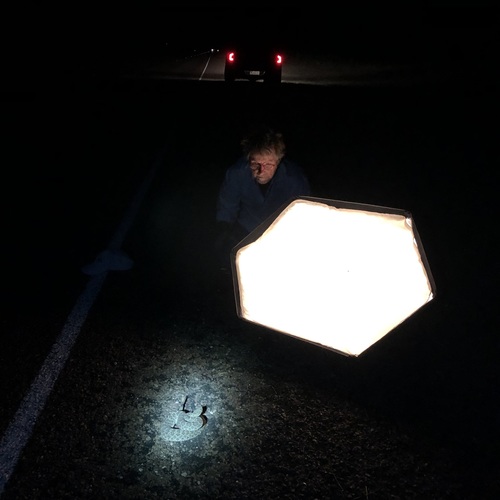 My herp list for the weekend:
Texas toad (Anaxyrus speciosus) on US-385 a few miles north of Marathon
Mediterranean house gecko (Hemidactylus turcicus) at Tom & Susan Curry's in Alpine
Glossy snake (Arizona elegans) on US-90 a few miles east of Marathon
Trans-Pecos ratsnake (Bogertophis subocularis)
Western diamondback rattlesnake (Crotalus atrox)
Mohave rattlesnake (Crotalus scutulatus)
Prairie rattlesnake (Crotalus viridis)
Great Plains ratsnake (Pantherophis emoryi)
Sonoran gopher snake (Pituophis catenifer affinis)
Long-nosed snake (Rhinocheilus lecontei)
Unfortunately, there were lots of road-killed animals (snakes and mammals) down every highway. Also, a utility company was installing a power line between Marathon and Alpine along US Hwy 90. They had dug about 50 holes that were about 6 feet deep for the poles, and left them open, some evidently for days. They were fenced with an orange mesh construction fence, but that's only good enough to maybe keep clumsy people from falling in. I decided to check a few and see if there were any trapped animals. In 10 holes, I found two live southern plains woodrats (Neotoma micropus) and one dead, dried-out kangaroo rat that looked like it had been at the bottom of the hole for several days. I was too late to help the k-rat, but I duct-taped my snake tongs to another stick, and was able to pull out the woodrats. They didn't like being squeezed in the thorax with the tongs, but they looked really happy as they high-tailed it back into the brush!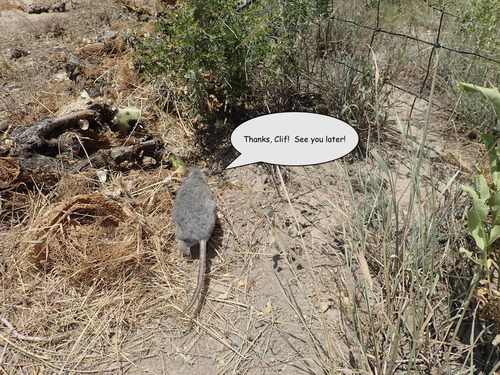 (Notes 146: 8-11)
Posted by

cliftonladd
, August 16, 2019 23:44