Greetings intrepid mushroom hunters! Now that fungal fruiting season has officially hit California, it's time to get out there and find stuff!
For documenting mushrooms, there are several photographic tricks that will greatly aid in online identification. First, let's look at an example of what NOT to do.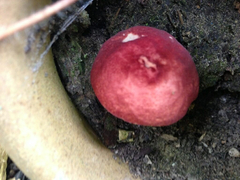 A mushroom that will never be identified online.
The above photo is out-of-focus and has no details other than the color and shape of the cap. We'll never know the identity of this mushroom if this is all you give us. In fact, it could be an apple.
You should take a minimum of THREE photos for each species that you document - in situ (preferably with habitat or substrate visible), a detailed shot of the pileus (cap), and a detailed shot of the stipe (stem) and lamellae (gills).

...more ↓