These are dark days, but here's a small piece of good news: we recently released a new version of the computer vision model that iNaturalist uses to make automated identification suggestions. It takes several months to create a new model, and we released this one on March 3, 2020.
We want to take this opportunity to share how the model, its input data, and our process has changed over time. The first thing to understand is that the model isn't updating on a day-to-day basis. Each time we train a new model, we use a snapshot of the images on iNaturalist associated with observations that have complete data (i.e. they have coordinates, a date, and media) without any problematic flags (e.g. if the location is marked incorrect, we exclude it) and a taxon. This means that we do include images from observations of captive and cultivated organisms. Lastly, in recent models, a taxon must have at least 100 verifiable observations and at least 50 with a community ID to be included in training (actually, that's really verifiable + would-be-verifiable-if-not-captive, because we want to train on images of captive/cultivated records too). That's quite different from the criteria for our first three training sets, which were filtered by the number of photographers. Here's a chart showing the change in taxa included in the model over time. Brown bars show models that include taxa ("classes" in the chart) by number of photographers, pink by number of observations.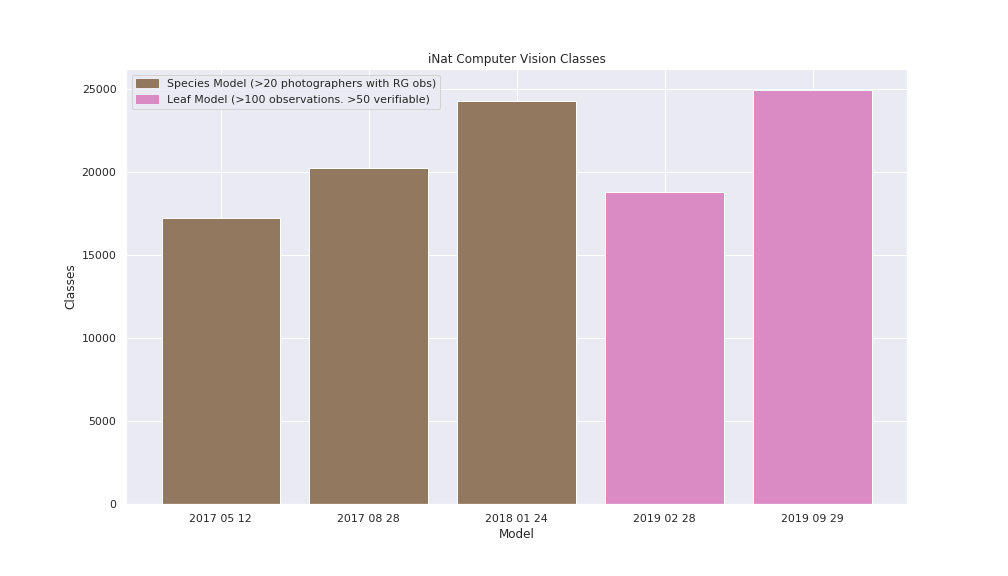 As iNaturalist grows, the pool of images for training grows too. You can see the growth over time in this graph, which shows the date that the training began. For this most recent model, it used images from observations meeting the criteria above on September 29, 2019.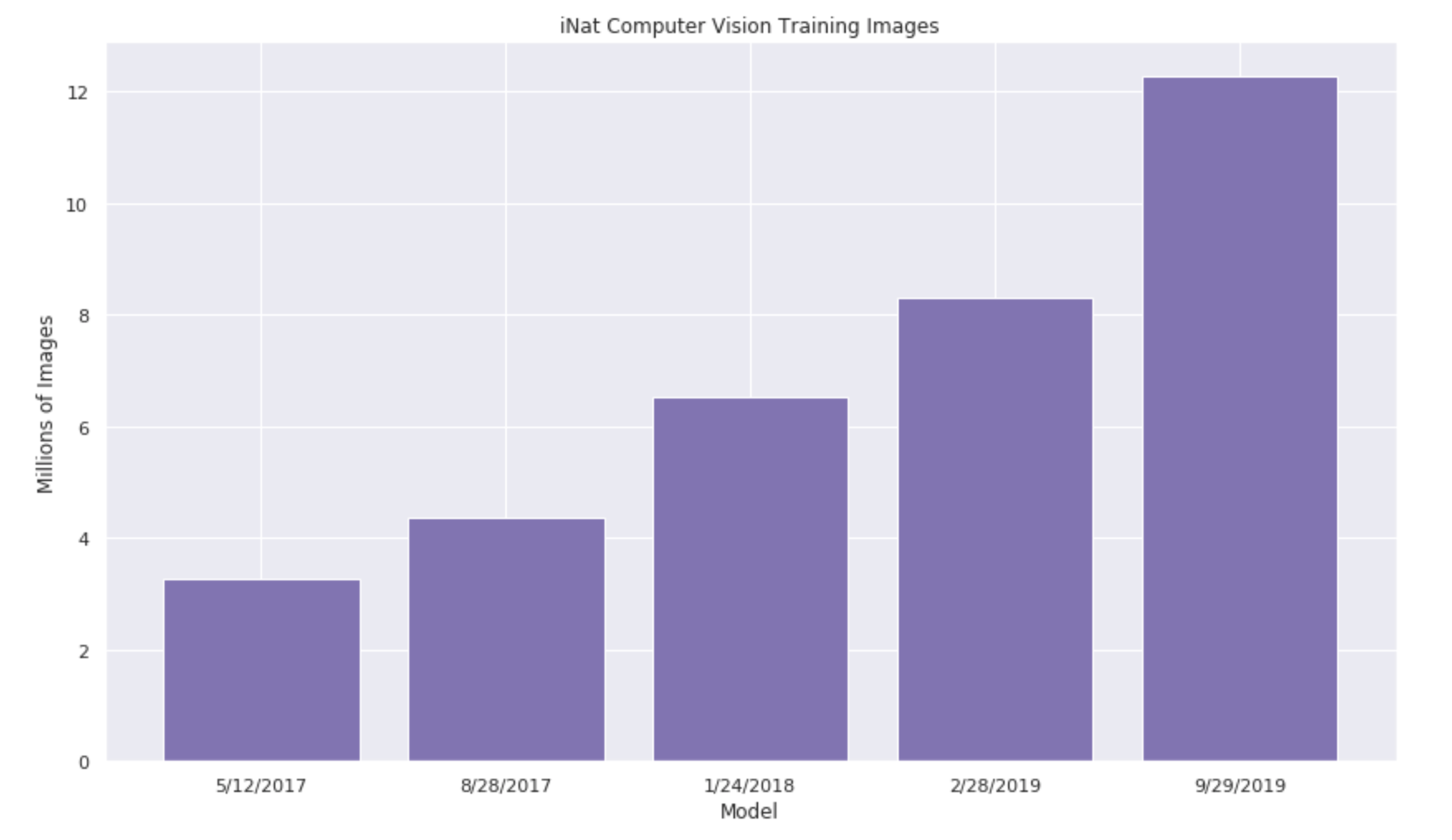 Not only has the number of images grown, but the geographic spread has grown as well. In the figure below, we've plotted the locations of all the observations represented in recent models to show the difference in geographic coverage. Value indicates log-normalized number of images per area. Note the increased density in Russia and in the western Pacific Ocean in the September data.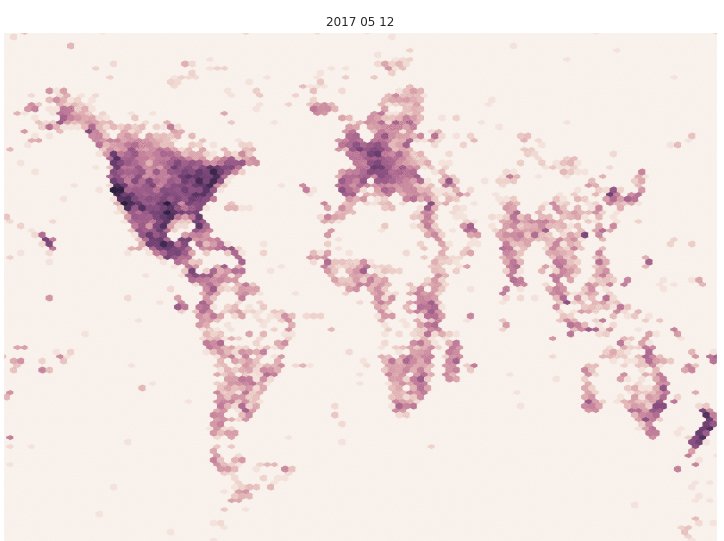 The approach to the data we train with also evolved. For the first three models, we only trained them to recognize species. For the last two models, we've been able to train with coarser taxonomic ranks. For example, if each species in a genus has 10 photos, that might not be enough data to justify training the model to recognize any of those species, but if there are 10 species in the genus, that's 100 photos, so we can now train the model to recognize the genus, even if it can't recognize individual species in that genus. This approach allows the model to make more accurate suggestions for photos of organisms that are difficult (or impossible) to identify to species but are easy to identify to a higher rank, e.g. the millipede genus Tylobolus in the western US. In the first 3 models, it would over-suggest the most visually similar species, even if it had no nearby records, e.g. Narceus americanus, a species from the eastern US that looks almost identical to western species of Tylobolus but that doesn't occur in the same areas. In the diagrams we're sharing here, we refer to this as the "leaf model" because it adds more "leaves" to the taxonomic tree that the model recognizes.
The graph below shows the increase in the number of taxa included in the model that began training in February 2019 compared to the newly-released model that was started training in September 2019. Starting with the Feb 2019 model, we now cap the number of photos we use for each taxon at 1,000 to prevent over-training, hence the flat tops of those two curves.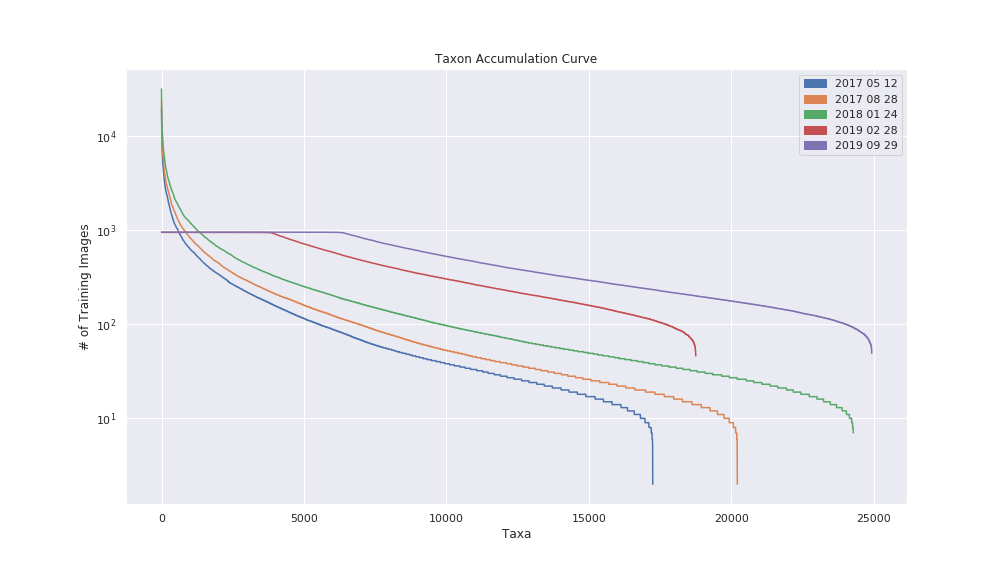 To see how the number of taxa included at different ranks compares between the February 2019 and September 2019 training sets, compare the bars below. We added non-Linnean ranks like tribe and superfamily in the September training, so there's no expected growth for those, but note the drastic increase in species.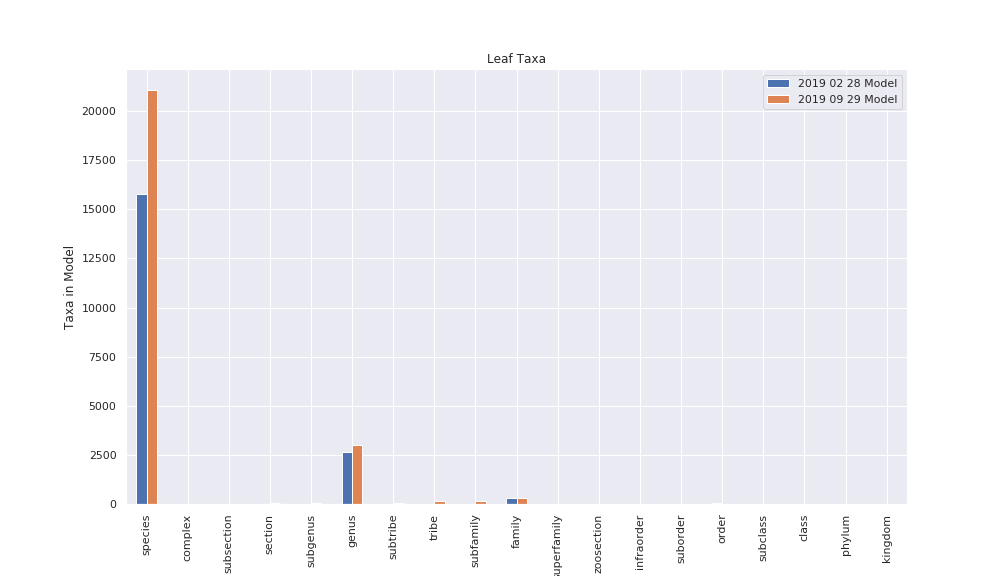 As the amount of data increases, so do the resources required for training. We trained most of our models on a machine in our office at the California Academy of Sciences using graphics cards donated by Nvidia, but for the February 2019 training we experimented with rented hardware at Microsoft Azure using funds donated by Microsoft. Although we were able to spend fewer days training at Azure, it was too expensive for us to afford indefinitely, so we've returned to training on our in-house hardware, allowing Alex to more completely geek out on our custom rig. Here's a chart showing how long its taken to train each model:
We are grateful to everyone in the iNaturalist community who shares and/or identifies observations that make this possible. We hope that the models become increasingly useful to more and more members of the community. With over a million species in the world and 250K on iNaturalist so far, we have a long way to go. We appreciate the many hours of research insights from Grant Van Horn, and we are grateful for the open source software developed by Grant & Visipedia that powers the training of these models. We'd also like to thank Nvidia and Microsoft for supporting our efforts to provide free automated species suggestions to the world.
Written by Carrie, Ken-ichi, & Alex
Posted on
March 18, 2020 04:52 PM
by

kueda