This is Quercus fusiformis: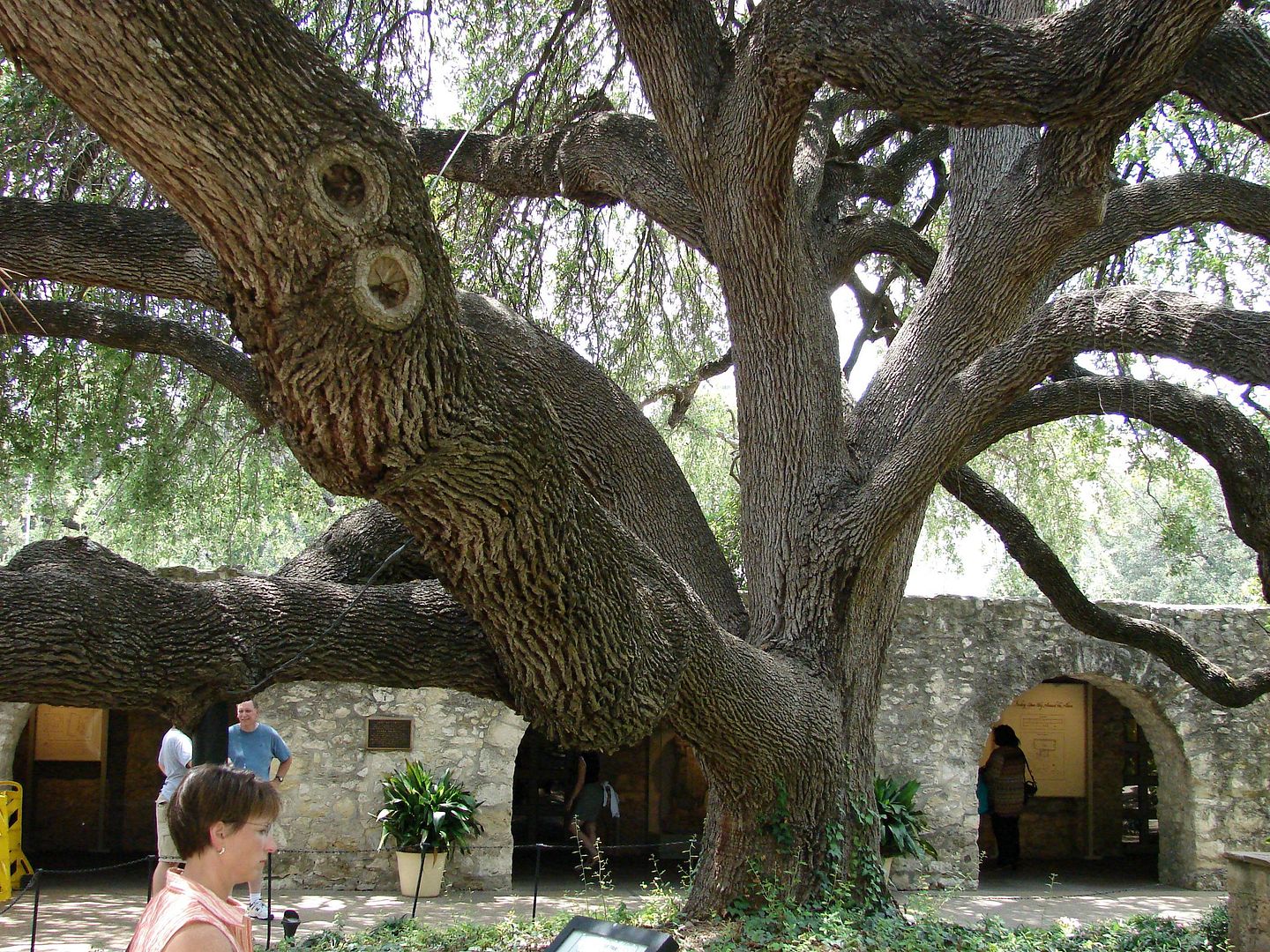 Q. fusiformis in Bexar Co., Tx.

Quercus fusiformis is the common live oak used in landscaping and found in the wild in central Texas. It is more drought-tolerant and cold-hardy than Q. virginiana, which it is sometimes considered a variety of.
Habitat is one of the best ways to distinguish between the two in the wild.
Quercus fusiformis is typically found growing on dry sites, unlike Q. virginiana, which prefers moister conditions and is found along the coastal areas of the southeastern United States. Q. fusiformis is generally accepted to be the hardiest evergreen oak, able to tolerate winters to USDA zone 6a. It has become a popular landscaping tree for its stately form, ability to endure urban conditions, and general hardiness. It is prevalently used for these purposes in Texas and southern Oklahoma, and use is becoming more widespread into the Western US.
Q. fusiformis can appear as a thicket forming shrub or be a large spreading tree that is identical to Q. virginiana. Q. virginiana is known as Coastal Live Oak, or Southern Live Oak. Q. fusiformis is known as Escarpment Live Oak or Texas Live Oak. In its western range, where it is typically scrubbier, Q. fusiformis is easily distinguished from Q. virginiana. But in it's eastern range the differences are less apparent. Interestingly, the state record Q. fusiformis (Ht. 63', circ. 342") is larger than the state record Q. virginiana (Ht. 61', circ. 338"), in height and circumference, but they have the exact same size index of 427 due to the Q. viriniana tree having a greater width.TEXAS BIG TREE REGISTRY

According to Turner's Atlas of the Vascular Plants of Texas, Vol. 1, in Texas Q. virginiana occurs only as far west as eastern Williamson County and eastern Bell County. The majority of the occurrences are east and south of Bell County, mostly clustered along the Gulf Coast. Quercus fusiformis, on the other hand, occurs mainly west of the line of counties including McLennan, Bell, Williamson, Travis, Hays, Comal and Bexar—generally, the Edwards Plateau. There is also a grouping in the southern tip of Texas in the South Texas Plains. Additionally, there is an eastern line of counties (including Goliad, DeWitt, Lavaca, Colorado, Fayette, Bastrop, Washington and Brazos) where Q. fusiformis and Q. virginiana overlap. In its eastern range and especially where the two overlap, is where the confusion abounds. Robert Vines in Trees of Central Texas says about Q. fusiformis:
"Although it appears distinct in the western part of its distribution (beyond the Edwards Plateau area and into Mexico), on its eastern range it seems to pass into Q. virginiana with many intermediary variants."
Benny Simpson says this about Q. fusiformis:
"Escarpment Live Oak grows in mottes, attaining heights of 50 feet (72' has been recorded) on almost any alkaline to slightly acid, well-drained soil. It is rather rare on the the true Blackland Prairies, possibly because of the poor internal drainage of those soils, but it does occur in the West Cross Timbers and Grand Prairie, west and north of the Balcones Escarpment on the Edwards Plateau, and, to a lesser degree, east of the Balcones Fault Line on the Blackland Prairies. It grows in hybrid swarms of Quercus virginiana x Q. fusiformis from the Balcones Escarptment to the coastal area and then eastward to the Brazos River, where, on the east side, more or less pure forms of Q. virginiana are encountered."
From Flora of North America:
"The difficulty in distinguishing Texas populations of Quercus fusiformis from Q . virginiana is reflected in a variety of taxonomic treatments, including reducing Q . fusiformis to varietal rank under Q . virginiana . The latter disposition is problematic, however, because Q . fusiformis in northeastern Mexico is amply distinct from Q . virginiana and appears to be more closely related to Q . brandegei Goldmann, an endemic of Baja California, Mexico. Thus, here we assume that the intergradation of Q . virginiana and Q . fusiformis is a result of secondary contact, and is not primary clinal variation. Under this interpretation, Q . virginiana in typical form extends into Texas only as far west as the Brazos River drainage along the coast from there to the escarpment of the Edwards Plateau; most populations elsewhere are either intermediate between the two species or show greater affinity with Q . fusiformis . On the Edwards Plateau, the live oak populations are small trees forming rhizomatous copses (shinneries) and having mostly acute acorns."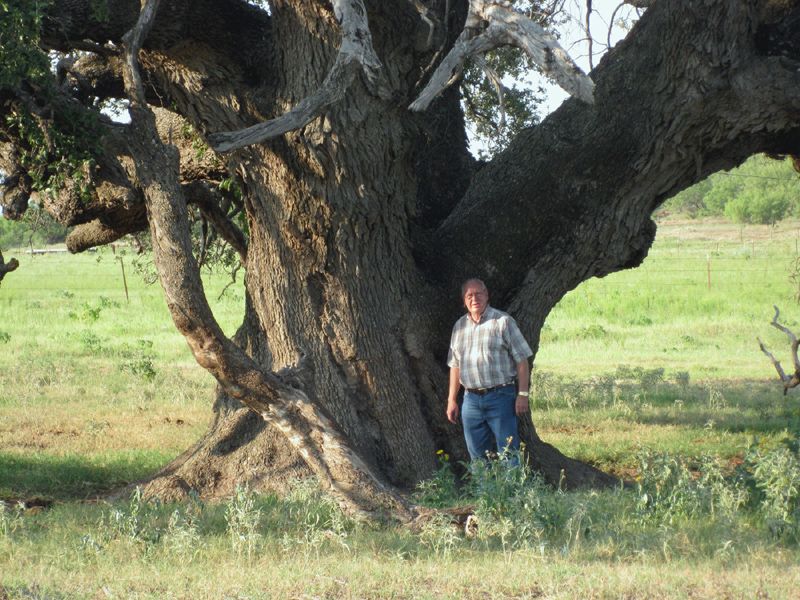 Q. fusiformis in Young Co, Tx.





Q. virginiana in Aransas Co., Tx.